Preserving culture and heritage through generations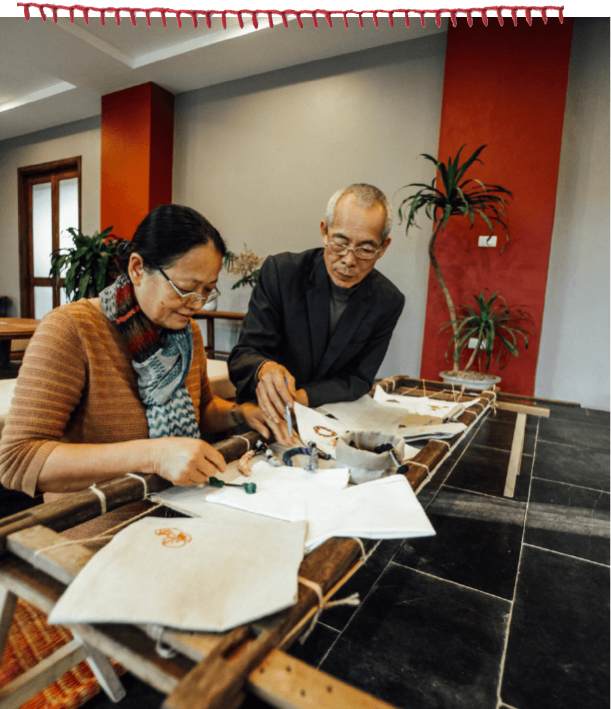 Located in a peaceful alley of Văn Lâm, a 700-year-old small craft village, Le Clos du Fil is steeped in history and age-old traditions. Centuries ago, this area – Hoa Lu – used to be the capital of Vietnam and its locals were known for the delicate lace and embroidery they made for the Royal Court. Up to the present time, embroidery shows no sign of fading away in this place.
After learning the art of hand embroidery from the French, Huấn Chu spent the 50s carving a name for himself as one of the vanguards of embroidery in Hoa Lu. Over the years, he learnt to weave his identity and style into every piece he made. Taking over from her father in 1989, Ngân Đỗ was able to preserve the tradition of artistic embroidery by running a craft atelier including 10 local apprentices and a myriad of exquisite fabrics.
Not only did Ngân want to  preserve her father's legacy but also share the beauty of hand embroidery and her home town with others. She decided to set up Le Clos du Fil as a way for travelers to experience the history of Hoa Lu, the allure of Tam Coc and authentic local culture from the comfort of a home away from home.
During your stay at Le Clos du Fil, you will have the opportunity to visit the family-run studio, only steps away from your accommodation. Witness intricate details on items of clothing come to life through delicate artistry and fascinating traditional techniques, each piece boasting a fine balance between classic patterns and refined modernity. Experience the impressive art pieces in a unique setting and have a chance to buy them directly from the embroiderers. 
At this unique boutique hotel, you will find a perfect mixture of rustic, quaint and private comfort along with high-quality services. On top of experiencing this one-of-a-kind accommodation, you will  be surrounded by stunning natural beauty and fascinating local culture. Here, a stay is more than just a visit: it's a source of inspiration.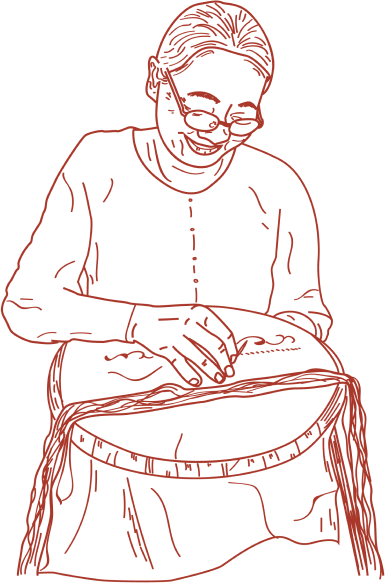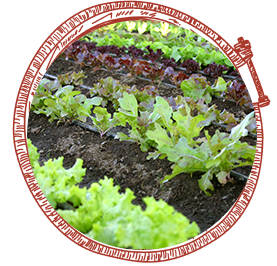 Environmental concept
We make sure to use light colors for the pavement, roof and exterior walls to reflect sunlight and expel heat organically.
We also use many natural construction materials such as stone, wood and bamboo as well as local building materials to reduce the negative impacts of transport.
Le Clos du Fil contains large windows, making the most of natural light and breeze during the day.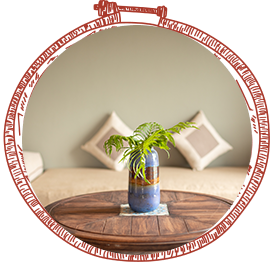 Energy conservation
As part of our commitment to conserve the environment, bed linen and towels change is only organized upon request.
Finally, we provide in-room instructions on how to save energy and encourage our guests to act accordingly, as we believe that both individual and collective actions must be involved for a better future of our environment.
Increasing the amount of natural light not only reduces the reliance on artificial light during the day, but also boosts our sense of well-being.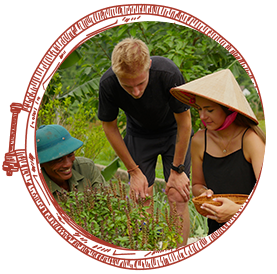 Community
We do our best to express our commitment through principles and guidelines in parallel not only with environmental protection but also with our local communities. 
We support these communities with short-term training courses such as basic English courses for sampan rowers, or for children from the villages, allowing them to have a brighter future. These are examples of our fruitful results of our sustainable tourism project.
Our Location
Nestled in the centre of Văn Lâm village, only a few steps away from Tam Coc Pier, Le Clos du Fil is conveniently located with much to explore nearby. The pier itself offers one of the most famous, incredible landscapes in Vietnam, boasting towering karsts, snaking rivers and mysterious caves that resemble a pictorial scene from a storybook. In this village full of natural attractions, there's everything from traditional eateries to street vendors as well as daily markets. You only need to step outside to experience the captivating array of sights, smells and sounds. Alternatively, if you prefer a more peaceful atmosphere, a simple short walk will take you to emblematic and serene landscapes of infinite rice fields and scenic snaking river.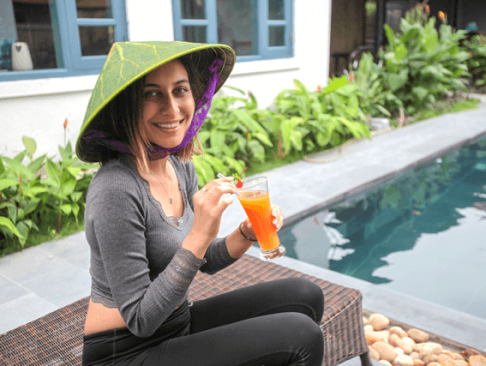 Everything is taken care of in detail!, I fell in love with the place completely️. I recommend that you stay in this wonderful environment during your visit to Tam Coc.
Very complete and good quality breakfast. Wonderful staff attention!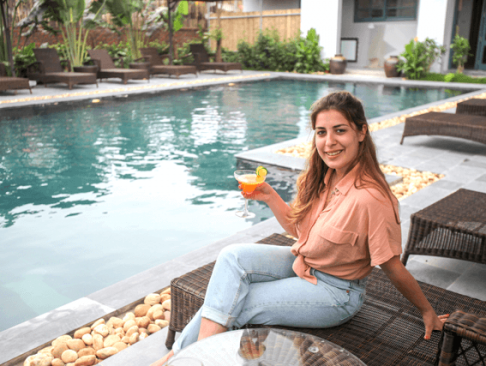 Not much more to say other than the amazing service, and the beautiful views from the room (we almost felt immersed in the nature). It's also quite unique as it is embroidery-themed. Highly recommended for couples.